share this article: facebook

Submit Your Invention For Possible Licensing Deals and Investors. Get started.
Get professional inventor feedback, prior art overview, Inventicator™ and more. Our Brutally Honest Review costs $85 and is worth many times the price, even when you hear "no."
Confidentiality Agreement - Frequent Questions - Intro to Licensing - email: info@inventioncity.com
Comments - Rated A+ by BBB - Videos of some Past Projects
Our program is based on 25+ years of real successes and costly failures. We truly know every aspect of inventing and are pleased to work with inventors from every country in the world.
A "no" from us will help you make better decisions that will save you thousands and even tens of thousands of dollars. There's also a chance that we'll say "yes" and offer you a licensing deal that could pay royalties for a decade or more.
We review your new invention idea as possible investors. We're blunt and honest because if we say yes and offer you a licensing deal, our time and money is on the line and you don't invest another penny.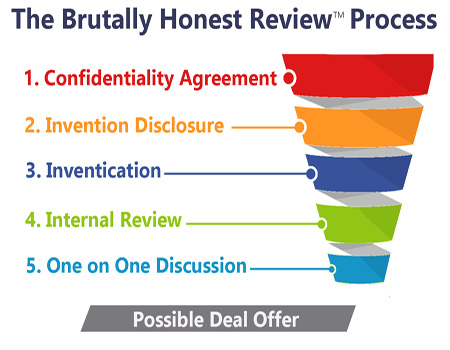 In a Brutally Honest Review we learn about your invention and personal situation to help you find the best way forward. If we say "yes" we'll make an offer where you don't risk any additional money. Our expertise comes from 25+ years of hard won successes.
Start with the Confidentiality Agreement here. Inventions are considered at all stages of development from napkin sketches to production units.

Here's the fine print:
You pay $85 to make a submission. (There are discounts for multiple submissions at one time, maximum of 3)
Please understand that we say "no" more often than "yes."
If we say "no" you get feedback that's worth a lot.
If we say "yes" we'll offer you one of the following:

Licensing - Invention City licenses your invention, handles all further development and patents and pays you royalties with no further investment from you (the royalty depends on many details including profit margin, how developed the invention is, patent protection, risk and investment requirements) or;
Representation - We present your invention to prospective licensees and help in negotiations on a commission basis.

We're rated A+ with the BBB and work hard to fulfill our promises.
Have a question about the process? Call 612-808-8081 or email info@inventioncity.com
Typical Deals

Deal offers are based on inventor goals, invention development status and investment outlook. The more an inventor brings to the table, the more we can offer. Our philosophy for percentages comes from our own experience as inventors and is perfectly summarized by Edison's comment that, "genius is 1% inspiration and 99% perspiration." In practical terms that means revenue sharing offers run from 80/20 to 20/80 depending on many details.

Sometimes a deal offer is conditional on further development. For example, we might tell an inventor that our answer is "no", however, if they build a working prototype that proves the concept, we might very well say "yes." A working prototype, even an ugly one that barely functions, is worth far more to us than a pretty picture and can often enable us to make a better offer. If you need someone to build a prototype for you we can make recommendations.

We like it when inventors want to stay involved and try to find practical ways to make that happen that don't diminish the chances for making a deal successful.

We license a wide range of inventions and are open to things in all fields. You can get a sense of our interests by looking at our current deals in progress

Interested in our track record? Read About Us.

Sign our Confidentiality Agreement electronically and get started now.
Unsolicited Comments from Inventors on Brutally Honest Reviews and working with Invention City:

September 12, 2016
"Hi Mike -Thanks for your review, effort and feedback. You found a lot of stuff that I missed! I will investigate and see where I can improve!" - Gerhard K.


August 14, 2016
"Hi Mike, I learned so much from your feedback and the patent links that your given me will help a lot. Next time, I try to avoid competitive product on whether to proceed with the idea or not. Unless I have really huge advantage over my competitor invention. I will not proceed with this idea invention production... Finally, I wanna say thank you for your professional view on my invention idea. I really appreciate it really much and will try to figure simple, practical, easy invention idea and not forgetting less competitive market." - MJ Shah

June 3, 2016
"I want to say that you bringing this to my attention was worth ever penny that I have paid y'all. I paid my patent attorney $800 for a prior art search and I feel like you did a much better job for $85." - Shane S.

May 9, 2016
"Good Morning Mike - I decided to try my hand at marketing my invention. The Invention City product evaluation on [my invention] was instrumental in getting me to this decision. It gave me a shot of confidence that I needed so badly. You and Dan are great!!" - Therese M.

March 18, 2016
"Hello Dan ! I was disappointed to hear the BAD news from you, but at the same time it was GOOD news. By this you opened my blind eyes to the truth and have saved me a lot of money and time. Another company I spent $799.00 and told me from the beginning I had a home run. They knew what I wanted to hear. Now they want me to sign $10,000 agreement 15% royalty. The $85.00 I spent for your evaluation was well spent. I will be contacting you with my next big idea soon. You may use me as an example of a happy customer. Thank you!" - Bill M.

March 2, 2016
"Glad it was just $85 I lost and not Thousands. Thanks again you've been a great help." -Tracy R.


February 28, 2016
"I really enjoy speaking with you over the phone. I appreciate it. Your services are much beyond and above the $85 that I paid."
- Serdar K.
January 8, 2015
"If you're seeking an opinion, and EVERY inventor needs an outside unbiased one early in the developing phase, these are the guys to talk with. An honest appraisal of your idea or new product concept is what you will receive from the professionals at Invention City. You may not like what you're going to hear, or expect to hear what they're going to say, but given how close you can become to an idea or new product concept it's something you need to experience before going too far into development. They're honest, and insightful in their evaluation - a welcome breath of fresh perspective. Keep your eyes and ears open, take away the advice from these professionals, and you and your idea or new product concept will benefit from it. Will work with them again, happily." - Jack F.

January 6, 2015
"I have never came across any invention related companies such as Invention City inc. I have been working with IC's president Mr. Marks directly with my couple of inventions. Mr. Marks had devoted his personal time at many different occasions. Mr. Marks even went out of his way to meet me to discuss the goals of my inventions. In order to accomplish my goals, Mr. Marks always provided me with suggestions and advises to help me. I have dealt with other companies prior to it, but I have never experienced such a friendship based on business relationship like I did with Invention City. I would highly recommend Invention City to anyone, who is inventor and entrepreneur to accomplish their goals. The President Mr. Marks is always straight forward and brutally honest with me regarding inventions. I personally thank Mr. Marks and Mr. Fulford for their personal help and devotion. Thank you." - Ali N

August 4, 2014:
"I submitted my idea for a Brutally Honest Review and had a very positive experience with Invention City. I received helpful, honest, and professional feedback quickly after my submission and felt that I had finally found a company that I could trust for professional guidance." - MH

June 18, 2014:
" I just want to give a big thumbs up to Invention City. I had the most professional experience I have ever had. And they proved to me that they are for real. I can compare Invention City, Inc. to the Shark Tank a TV show I love because of the honesty and not someone that will tell you a lie just to get into your bank account or take a big charge on your credit card. Dan who reviewed my invention was great. He listened to me and gave me great advice concerning my invention. And believe me that conversation with Dan saved me a lot of money that I don't have to give away at this time, to some other companies that promise the sky, and you end up with a empty bank account, and an invention that goes nowhere. Invention City Inc charges a very small fee for their review and if they feel that you invention or idea is ready for the marketplace they tell you. And if it is something that's not ready to go forward just yet they will give you great advice on how you should proceed if you desire to. I recommend Invention City. to anyone who has an invention, try Invention City first, before they go to any one else. This company is very Professional and have real good people that care, and tell you the truth. My mother always said if you know the truth, the truth will set you free. In my case I say, if you want to hear the truth about your invention or idea go to Invention City Inc, first and you will not regret it. Just want to say thanks again Invention City. I didn't lose any money. " - Laverne T
=============================
Invention City has had unparalleled success and experience in the business of invention development and commercialization. Over the past 25 years products developed, licensed and manufactured by Invention City and its partners have generated over $500 million in retail sales. We know the inventing business in depth from all angles - as both licensors and licensees - with our inventions sold across every continent on the globe except Antarctica. Read more about us here.
Even if you're not looking for a deal and want to go forward on your own you can submit to get honest feedback from professionals who've been there.
Invention City gives you valuable insight that may help you improve your invention, may cause you to rethink it entirely or just might lead to the offer of a deal. The best way to make money from an invention is to take a hard look at all of the reasons the invention might fail and try to address those reasons before you file a patent, develop a prototype, or pursue a licensing deal. If you've already started on that path you can improve your chances and save money with unbiased input from the outside.
That fact is that most inventions fail. Even the best ones have odds below 50/50. We've succeeded through the years because we've learned how to fail as inexpensively as possible until a success comes along, and then we exploit that success to the stars. It's a great way to prosper in the invention business, quite possibly the only way.
Whether your invention is just an idea or a new product in early production, getting a quick opinion from Invention City is likely to save you thousands of dollars. It is also possible, despite long odds, that invention City could offer you a deal that will make you tens of thousands or just maybe, even hundreds of thousands or more, as we have done with a few of Invention City's own ideas.
Other invention service companies hold out false hopes to encourage you to spend money with them. In fine print they'll tell you that the odds of success are small (true) and then in phone conversations they'll flatter you into believing that your invention might just beat the odds. Flattery is easy. All of us like to hear that our ideas are brilliant and that we have a good chance of getting rich. Well, for $20,000 or more you can enjoy the flattery and maybe get a virtual prototype of your idea. But seeing your invention on a retail store shelf and actually making money on it - that's not likely at all. $20,000 isn't enough to do the job right. But it is enough for an invention service company to make a nice profit by encouraging you to pursue your idea.
Many patent attorneys are no different. They'll tell you that the first thing you need to do is protect your idea even before you even have a final product design, or know the details of your invention, or before you go out and get market feedback. If you have a lot of ideas you'll quickly figure out that patenting every idea right away is good way to become bankrupt. Even worse, if you file a patent too early in the development process, you're probably not covering the most important details - you'll need to file a second patent to cover those!
Prior to having a patent filed it is very important to keep your idea confidential. But, if saving money matters to you, you should get feedback from a trustworthy, ethical and experienced source to help you decide if an idea is worth patenting at all.
The risks of going forward with an invention are high. The cost for Invention City and its partners to take a relatively simple idea and turn it into a product on the shelf at Wal-Mart often runs upwards of $200,000. Most people can't afford that risk. We can because we're very careful about saying "yes." You should be careful too and get professional feedback as early as possible.
Invention City's feedback is not the last word on success or failure. But it can save you a lot of money by helping you make better decisions on what to do next and how to move forward.
Invention City will quickly give you a "yes" or "no", feedback that could save you thousands, and in some cases a deal offer that could make you much, much more.
Confidentiality Agreement below:
===============================
SUBMISSION BY MAIL (Please allow up to two weeks for a response when submitting by mail)

Confidentiality Agreement
Our submission process is fast, easy, honest and human. The agreement below protects your idea when you disclose it to us, even if you have not applied for a patent. Please read it carefully. If you do not understand it please consult with a professional legal adviser. If you accept the agreement and wish to submit your invention to us, please enter your name and click on "Pay Now" at the bottom of the agreement. This will activate the agreement and take you to PayPal.com where you will be asked to pay the $85 review fee. Within one business day of receiving your payment we will contact you to schedule a 20 minute telephone review and Inventicator™ consultation.
The confidentiality agreement is executed when you make your payment and an electronic copy is sent to you automatically with a form for providing information about your invention. We follow up your payment with a confirming email from a real person within one business day. The confirmation email provides a backup to the auto-reply and begins the review process.
We look forward to learning about your invention!
Mike Marks
President
Invention City, Inc.
===============================
AGREEMENT TO KEEP INFORMATION CONFIDENTIAL
This Agreement to Keep Information Confidential is made and entered into by and between you, the discloser of an invention idea ("Inventor") and Invention City, Inc., a Massachusetts corporation together with its advisers, ("Reviewer").
1. Inventor has developed and owns all rights to an idea ("Product") and wishes to disclose the Product to Reviewer for evaluation of a possible business relationship ("Disclosure"). Upon executing this Agreement, Inventor will have paid a fee to Reviewer for such Product evaluation. Both Inventor and Reviewer want the Disclosure to remain confidential and proprietary to Inventor as described in this Agreement.
2. Reviewer will hold in confidence all information relating to the Product that Inventor discloses to Reviewer and shall not directly or indirectly disclose to others such information. Reviewer will protect the Disclosure as carefully as it protects its own trade secret information. To avoid misunderstanding, all Disclosure information shall be written (either by text or graphic) or tangible; orally transmitted information is not included by this Agreement. Inventor will make clear and keep a record of what information Inventor has been disclosed to Reviewer.
3. Inventor retains all rights to the Product and Disclosure.
4. This Agreement does not apply to any information that was already known by Reviewer at the time of Disclosure or was publicly available at the time of Disclosure. This Agreement will cease to apply if Disclosed information becomes publicly available through no fault of Reviewer, is publicly disclosed by Inventor, is independently disclosed to Reviewer by an unrelated third party, or three years from the date of entering into this Agreement.
5. Both Inventor and Reviewer agree that this Agreement does not give either of them any rights to information or property owned by the other. Improvements or modifications to the Disclosure shall be protected under this Agreement when Disclosed as described in section 2.
6. This Agreement may be modified or replaced, without notice, at any time. In such event, the version of Agreement in place at the time of submission and Disclosure shall be in effect.
7. This Agreement is governed only by Massachusetts law. Any dispute under this Agreement that cannot be settled by the parties themselves or with the assistance of a mediator within one month of notice of the dispute (except for the issuance of an injunction) will be settled by arbitration on an accelerated basis by a single arbitrator in accordance with the rules of the American Arbitration Association, both mediation and arbitration to be held in Barnstable, Massachusetts USA. Each party will pay its own expenses of mediation and arbitration, unless the arbitrator chooses to require one party to pay all or a portion of the other party's expenses.
By entering my legal name and clicking on "Pay Now" below I understand that I am entering into a legally binding Agreement with Invention City to protect the confidentiality of my Product idea for review. I have been encouraged to consult with advisors of my choice before entering into this Agreement.
rev 1-2-17

Agreed,
"Reviewer"
Invention City, Inc.
Agreed,
"Inventor"
Inventor submitting payment below.
After submitting payment you will be directed to a form where will submit your invention information and receive a copy of the Agreement to Keep Information Confidential to print and save.
(Entering your name and clicking
Pay Now will activate the agreement
and take you to PayPal.com where you
can make your payment)

Please send questions to info@inventioncity.com
Invention City, Inc. PO Box 493, East Orleans, MA 02643
Updated October 15, 2016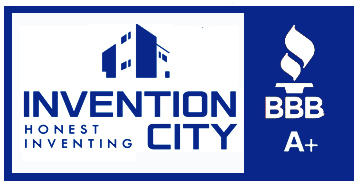 ===================================
Invention Submission FAQ
1. Why do you charge $85 for a submission if you make money from successful inventions? There are several reasons. First, inventors who have a quick phone consultation with us get honest input that will probably save them thousands of dollars - it's a great value even if we say "no." Second, we want to be sure that people who make submissions are serious and don't take advantage of our time. Third, if we say "yes" and proceed to commercialize your idea it's quite possible that together with our partners we'll be investing $200,000 or more, with no promise of success. $85 is a small price to pay when you're asking people to consider a $200,000+ investment.
2. How many deals have you done? Invention City originated with WorkTools, Inc. which was founded in 1986. You can see videos of some of our many projects here. We began the Brutally Honest Review service at the end of 2013 and at any given point in time are working on roughly a dozen licensing, representation and partnership deals. Confidentiality requirements prevent us from discussing most deals until well after commercialization.
3. Do you work with inventors from outside of the USA? Yes. We're pleased to work with inventors from all over the world, from every continent and region.
4. What percentage does Invention City usually take? The percentage varies depending on how much Invention City needs to invest to put together a deal and what type of deal we offer. Our basic philosophy follows Edison's observation that inventing is 1% inspiration and 99% perspiration. In that way we believe that an undeveloped idea, a napkin sketch which hasn't been developed or patented or prototyped, is generally worth 1% of Net Sales (see point 6).
5. Can I submit my invention to other companies at the same time? Yes. You have no obligation to work with us when you submit your invention for a Review. But exclusivity will be required if we accept your invention and enter into an agreement with you.
6. What's a typical licensing deal? A common licensing deal pays the inventor a percentage of "Net Sales" of the product. In most product categories licensing deals max out at 5% of Net Sales and in some categories they max out at half that amount. "Net Sales" means the price after deductions for returns, discounts and promotions. The idea is that the royalty is paid on what the company actually receives when it sells the product. To understand why 5% royalties are the maximum for most business categories read Money & Inventing. When Invention City does a licensing deal that deal may also include a sublicensing provision where the proceeds from sub-licensing are shared.
7. Is licensing all you do? In conjunction with preferred service providers we provide a full range of services including patent searches and filings, prototyping, manufacturing, marketing and even founding new companies. Sometimes we can marry an invention with an entrepreneur and put together a deal that combines licensing and equity.
8. Will you refund my money if I'm unsatisfied with a Brutally Honest Review? Yes - But please understand that an honest "no" and the reasons behind it will likely save you thousands of dollars. We urge you to not submit if you are submitting only in the expectation of getting a yes.
Have a specific question? Please send it to info@inventioncity.com
===================================
Introduction to Selling and Licensing Inventions
A good invention submission partner is one way an inventor can maximize the likelihood of success. Presenting an invention to potential licensees requires the invention to be developed beyond the idea stage. A working prototype is critical. The value of the prototype is enhanced if the design is also engineered for manufacturing and accompanied by research on prior art. The partner who submits the invention should also have a good understanding of the marketplace.
Selling or licensing an invention is tricky and getting a good non-disclosure agreement is important. The best and often the only way to get a worthwhile non-disclosure agreement (NDA) is to have advance credibility with the potential licensee. This is something that a good invention submission partner offers to a new inventor.
The issues described above are some of the reasons an inventor would want and benefit from an established well-respected partner who can both develop an invention and then submit the invention on behalf of the inventor.
Licensing is the easiest path to commercialization and profit: you get paid while someone else takes your invention, turns it into a product and manages the day to day grind of making and selling it.
When you give a company the right to make and sell your invention in return for payment, you are granting a license - you are the "licensor" the company is the "licensee". The payment can be an ongoing percentage of sales, a "royalty", or it can be a one-time payment, a "buyout".
The downsides to licensing are lack of control and a smaller share of profits. The upsides are less work, less investment and less risk. If you want to maximize the potential return from your invention AND you are willing to work extraordinarily hard AND you have the ability to build and manage a business… then licensing might not be the right solution for you. For everyone else it's a path worth serious consideration.
Many inventors harbor the fantasy that someone will pay for an undeveloped idea. While fantasies sometimes come true (someone does win the lottery), you should keep your feet planted firmly in reality. Fortune 500 corporations will only license patented (or patent pending) inventions. Smaller companies are more flexible but also have a strong preference for ideas that are developed and possess some form of intellectual property protection.
The steps to licensing an invention are as follows:
1. Identify & research target companies.
2. Approach prime targets
3. Confidentiality agreement
4. Prepare for negotiation
5. Initial presentation
6. Negotiate
7. Marriage
8. Divorce and Remarriage
Read more in Inventing 102: Introduction to Licensing
share this article: facebook