Video Call Centers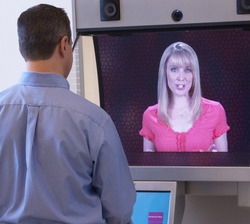 September 7, 2010 - Plano, TX (PRWEB) - TelePresence Tech has been granted a US Patent for its invention of TelePresence Centers with capabilities of transmitting agents to appear at customer sites with eye contact for live two-way communication. Existing call centers with VOIP phone systems can upgrade to transmit IP video to be received by customers on computer monitors, laptops, video enabled tablets, home cable televisions and smart phones. Instead of having faceless communication by phone, companies can reach out to customers for face-to-face interaction in real time.
In the five years since Duffie White, CEO of TelePresence Tech, submitted his patent application, numerous pilot projects have been underway through his European Partner, Luc De Backer, of Teleportel. This has included a bank in Holland that uses 3D TelePresence from the city center bank to their branch banks. Another application has been 3D TelePresence receptionists that serve multiple lobby receptions at one time. Also, a city in Europe has installed TelePresence Tech systems in outlying police stations for citizens to file police reports at the central police station.
Wainhouse Research Senior Partner, Andrew Davis says, "Duffie White of TelePresence Tech is bringing an improved customer services experience to the multi-billion dollar telemarketing industry by integrating his eye contact 3D TelePresence communications solutions into two-way video enabled call centers. This could be the beginning of a new "TelePresence-Marketing" industry."
TelePresence Tech has designed, developed and manufactured 3D TelePresence systems, which are currently installed in 25 countries around the world. These systems include small desktop systems, conference TelePresence systems, fully integrated TelePresence Carts, kiosks for life-size presenters in 3D TelePresence, team collaboration systems with 3D visualization and immersive 3D TelePresence rooms.
share this article: facebook