Invention City licenses and presents inventions to companies that sell new products in places like these: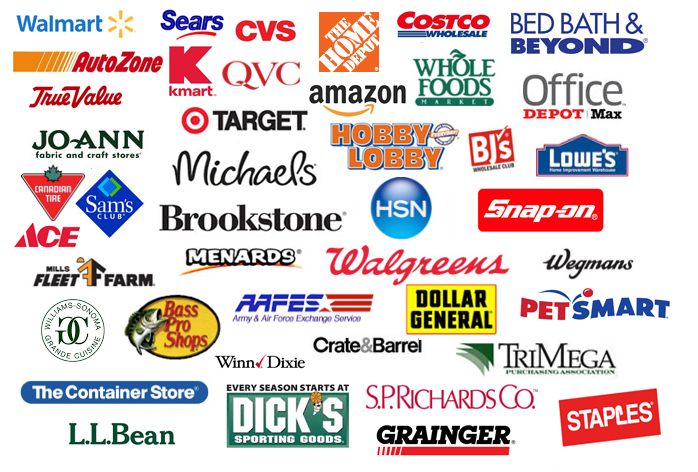 Ace Hardware Bass Pro Shops Home Depot K-Mart Lowes Sears Staples Target Tru-Serv Walgreens Walmart Williams Sonoma Michaels Amerisource BMG Direct Dicks Forest River RVs EMS Dr Leonards/Carol Wright EWI Harrlett Carter Heartland America Dollar General JC Whitney Johnson Smith Co. Miles Kimball Publishers Clearing House Smart Systems Sports Music Taylor Gifts Tools&More Walter Drake Wood Workers Supply National and Regional AAFES (Army Air Force Exchange) BJs Benny's Brooks Best Plumbing Best Products Black&Decker Grainger Vail Resorts B&B Auto Farm Berland House of Tools Cava Distribution Champion Auto Country Paint& Hardware Do-It-Best Drug Fair LL Bean 84 Lumber Bloomingdales Fulfillment Services McMaster Carr Franklyn Lumber Fred Meyers Gebo Distribution G&M Supply Distribution Nordstrom Handy Hardware Harrells Supply Home of Economy Imperial Distribution J&T Supply Just Accessories K-Tools KAB Dist. K-Line Loves Travel Centers Longs Mac Labs Mac Hardware Mills Menards M-Block Mid State Automative Nashville Door National Brands Price Chopper Partsmaster Pennzoil Patagonia Pamida Roses Randells Southern Auto Tool Warehouse Winn-Dixie Wood Workers Warehouse VIP Auto
...and many, many more in the USA and around the world.
Learn more about us and the products we've worked on here.
share this article: facebook