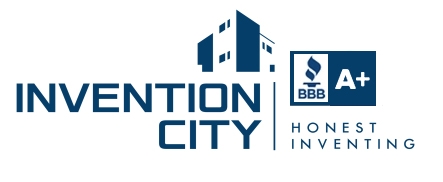 ---
Invention City Information
Message to First Time Inventors
Throughout the invention process an inventor must push aside the no-men and doubters who clog every pathway. The adage 1% inspiration 99% perspiration is true. Rugged persistence is a necessary ingredient for success. Each proceeding step in the invention process requires geometrically greater investment in time and money. The inventor should listen attentively. Why does this person like this invention? Would she actually buy it. Would he actually use it? What price? What features? There is no room for emotion when analyzing a project's merits for the marketplace. If at any point the inventor concludes that the market will not support the invention then either a) the invention must be changed or b) the project should be stopped. Even when every signal is a bright green "go" the road is hard and uncertain. Don't be afraid. Be informed.
Invention City Licensing and Development Program
Invention City would like to hear about your new product invention idea and have the chance of offering you a royalty deal. If we say yes, you do not risk another penny and you will make money when we do. There is no obligation.
Here is the fine print in bold:
You pay $95 to make a submission.

Please understand that we say no more often than yes.
If we reject your invention, you get feedback that's worth a lot.
If we say yes, we offer either:


Licensing Deal - Invention City licenses your invention and pays you a royalty with no further investment from you. Royalty percentage depends on many details including how developed the invention is, patent protection, risk, competition and investment requirements or;
Representation Deal - Invention City presents your invention to other potential licensees and shares revenue with you (the rev-share split varies from deal to deal depending on the size of opportunity, investment required and risk). You may be asked to further refine your invention or make a prototype or apply for patent protection. I-City may advise you how to do this on your own and/or refer you to other companies who can do this work for you. I-City does not provide prototyping or patent services. This keeps our interests aligned with yours - the only reason for us to encourage you to go forward is if we think we can both make money together.
We're rated A+ with the BBB and will work hard to fulfill our promises.
Have a question about the process? Call Dan Fulford at 1-612-808-8081 or send him an email: at dan@inventioncity.com.
Brutally Honest Review from Invention City on Vimeo.
Learn how to file a patent and protect your ideas and inventions with Nolo's Inventors' Bundle.
I-City recommended!
share this article: facebook
COMMENTS