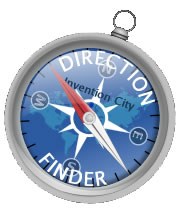 What would professionals do with your invention idea?
You have a great idea or a finished prototype. Maybe you are even further along. What you need are some good ideas on what to do next. Invention City has decades of success and experience answering questions on every aspect of inventing for its own projects. Now we can answer questions about yours. Send us a description of your invention, how far along you are in development, and we will tell you what our next steps would be if we had an invention like yours.
We provide you with a 5 page report filled with detailed ideas on what steps to take next, where to go for help, who to target for licensing, and how your invention seems to stack up against obvious competitors and prior art. If we do not want to go forward with your invention, we will explain why and how it might be improved. We answer any of your questions.
If we believe there is a company that might be interested in licensing your invention, we will provide as much contact information as possible. In some cases this may be a company that licensed from us before. In most cases, we do not have prior contact. Either way, we will give you actual names, direct telephone numbers and direct email addresses of people within companies to contact. We tell you who we would contact first ,and how we would make our approach.
Direction Finder is also the first step if you would like us to consider taking on your project to seek a licensing deal for you.
The fee for this service is $295. Our thoughts and ideas will likely save you thousands of dollars, and may possibly make you much, much more. If you're unhappy for any reason tell us within 30 days and we'll refund the fee.
Your invention is yours and remains yours. Our promise is to put ourselves in your shoes think about your invention like it's ours.
Now you can have the benefits of 25 years of experience that has achieved over $10,000,000 in royalty income and the knowledge that comes from more than a few expensive failures. We are the real deal.
Using our Direction Finder service is easy:
Read the Confidentiality and Service Agreement. Be sure you understand it.
Click on the Direction Finder/PayPal icon at the bottom of the agreement. You will be asked to send us $295.
You will be given an email address.

Describe your invention. Attach images and video up to 5MB
Tell us how far along in the development process you are.
Ask any specific questions you would like answered.

We will send you a report within 5-10 business days.

Our solid record of success and long experience in the field of inventing has few equals and enables us to provide great answers at a fair price. We have an A+ rating from the BBB.
Get some direction today. You will receive:
A summary of your invention that could get potential licensees interested without giving away key secrets.
An overview of the strengths and weaknesses of alternative and competitive products, estimated market size and why a company might or might not be interested in your invention.
A short review of relevant prior art patents, potential trademarks and domain names.
Sources for prototyping, engineering, design and manufacturing.
Contact names at companies that might be interested in licensing the invention (usually with direct telephone numbers and email addresses)
The basic terms of a licensing deal that invention City would seek (royalty rate, minimums, upfront money).
Whether or not Invention City would invest further in the invention and why.
Questions? Please send email with your questions about the Direction Finder service to direction@inventioncity.com with "Direction Question" in the subject line. Please do not send specific questions about your invention.
*Follow up questions may be subject to additional charges. This service is not available for complex inventions or inventions beyond our scope of knowledge and experience - the fee will be refunded and no response will be provided.
share this article: facebook