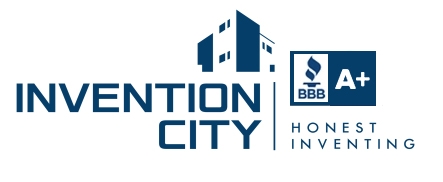 Invention Development Consulting
Regardless of the development stage of your invention, before you invest more deeply, we strongly recommend our Brutally Honest Review. It is one of the best values you will find anywhere in the world of inventing and new product development. Once you are sure you want to move forward on your own, our Invention Development Consulting can help you refine your invention idea with the goals of making it more likely to succeed commercially and with strong patent protection. There are no guarantees, but we promise to give you the full benefit of our 25+ years experience of success and the hard lessons learned from failures. Invention City can help inventors design and develop their new product ideas from napkin sketches into commercial products at a fraction of the cost of using traditional design firm services. Read more about us and the range of work we did here.
Our team includes award winning inventor Joel Marks, of WorkTools, who created inventions like the Black & Decker PowerShot staple gun, the Gator-Grip universal socket, and has over 75 US patents to his name. Invention City's mission is to help inventors create great, functional designs that, if possible, enjoy meaningful patent protection and long term commercial success.
"Invention City respects the values and pocketbooks of independent inventors and will help you find the lowest cost options to do the job right."
Please ask us to create a customized proposal to meet your specific needs and goals. Call Dan Fulford at 320-584-2055 or email him at dan@inventioncity.com .
Typical Projects:
Ideation Phase 1
We consider a product concept from all angles, take a good look at the prior art, both patents and products on the market and propose variations and new concepts inspired by it. The product concepts are presented as rough images with written descriptions and a short summary of likely benefits and possible drawbacks. All concepts are 100% owned by the client. The fee for Phase 1 Ideation starts at $1500 for simple projects.
Ideation Phase 2
The client chooses one concept to refine further. I-City considers variations focused specifically on the chosen concept and discusses those variations with the client. Manufacturability is taken into account. The client confirms the concept. I-City provides images with detailed description and variations of it that can be used as references by a patent agent or attorney to write and file a patent and/or a prototyping service to create a prototype. References to service providers are provided. The fee for Phase 2 Ideation starts at $2500 for simple projects.
Ownership of Intellectual Property
Invention City provides ideation services on a work for hire basis and assigns rights to all inventions and concepts pertaining to the project to the client. I-City cooperates fully in all ways to affirm that the client is the sole owner of the Intellectual property it has created on the client's behalf.
Patent Filing Review
I-City reviews disclosures and patent filings prepared by third party providers on behalf of the client with an eye to adding concepts that expand the Intellectual property and may enhance the possibilities for meaningful patent claims to be granted. The fee for Patent Filing Review is $350 for inventions developed or co-developed by Invention City.
Commercialization
Commercialization encompasses all of the steps from creating a final prototype and engineering for manufacturing to putting a packaged product into distribution. Invention City can act as an adviser or partner to seek potential licensees, assist in negotiating licensing deals or help an entrepreneur launch a new business.
Contact
Contact Dan Fulford at 320-584-2055 or email him at dan@inventioncity.com for more information.
share this article: facebook